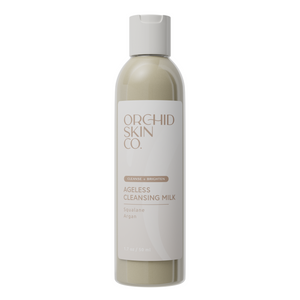 Cleanse + Brighten
Description: A light and creamy cleansing brightening botanical milk that removes impurities and makeup without stripping the skin.
Skin Type: Dry or sensitive skin
Benefits: Gently and effectively cleanses the skin of makeup, dirt, and excess oil while leaving skin soft, bright, and nourished with Squalane, Argan, Aloe, and botanical waters & oils.
Directions:
Squalane- An anti-aging star squalene leaves skin soft with the perfect amount of moisture and makes skin appear luminous.  It has the ability to lighten brown spots and reverse the damage of UV exposure.  I

Argan-

packed with omega fatty acids, vitamin E, and linoleic acids, all of which work to lightly moisturize skin, soften rough dry patches, and smooth a dull complexion. 
Featured Ingredients:
Ingredients: Aqua, Orange Blossom Flower Water, Rose Flower Water, Aloe, Squalane , Organic Argan Oil, Organic Rosehip Seed Oil, Hazelnut Seed Oil, Organic Jojoba Oil, Raspberry Seed Oil, Cranberry Seed Oil, Pomegranate Seed Oil, Papaya Seed Oil, Tamanu, Strawberry Seed Oil, Meadowfoam Seed Oil, Carrot Seed Oil, Opuntia,Prickly Pear Seed Oil, Turmeric Extract, Geranium Essential Oil, Lemongrass Essential Oil, Bee Balm, Rose Extract, Rose Wax, Beeswax , Witch Hazel, Carrageenan, Hydroxyethyl Cellulose, Acrylates/C10-30 Alkyl Acrylate Crosspolymer, Phenoxyethanol , Ethylhexylglycerin, Natural Vanilla Almond Fragrance.