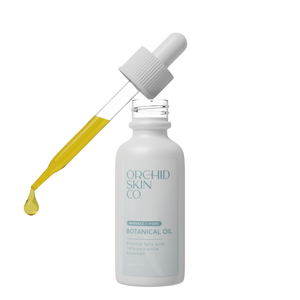 When searching for effective skincare products the concentration of active ingredients is key.  This unique facial oil is 100% pure active ingredients to give you the ultimate in skin health benefits. When designing this product we left out all fillers and preservatives and focused solely on blending the most beneficial botanicals for a multi-purpose facial oil for all skin types.  This powerhouse treatment delivers anti-aging benefits in a way that your skin is designed to receive.  Strengthen, nourish, and protect your skin's barrier with super antioxidants & essential fatty acids to product against damaging environmental factors. Reduce inflammation, balance oil production for and heal inflammation for healthy, calm, and glowing skin in the most natural way possible. Unlike other lower-quality facial oils this elegant formulation features high-quality dry oils that give a soft glow that is never greasy. 
Skin Type Indications:  All skin types 
Benefits:
-smoother skin
-balanced oil production
-anti-inflammatory
-brightening
-dries to a soft glow, non-greasy feel
Feature Ingredients:
Jojoba - almost identical to the natural sebum produced by the human body this plant wax is easily absorbed by the skin while dissolving the hardened sebum that clogs pores making it a functional oil for acne-prone skin.
Turmeric essential oil- known as a super antioxidant these ingredients effectively protects your cells from the damaging free radicals in our environment.
Rosehip seed oil- known as a "dry oil" this ingredient is hydrating but dries to a soft finish that is never greasy or shiny while the essential fatty acids calm and soothe skin 
Carrot seed oil-balancing to both dry and oily skin and increases skin resiliency
Raspberry seed oil- contains essential fatty acids to revive and protect the skin.
Directions:
After cleansing apply 2-3 drops to face and neck as needed.  May be used both morning and night. Can be used after other serums and under makeup.