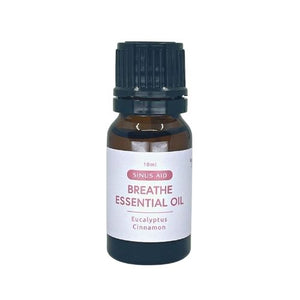 Customer Favorite!
Our Breathe Blend is based on an ancient formula that has been passed down for hundreds of years & used to protect people from the plague. This powerful combination of Clove Bud, Lemon, Cinnamon, Eucalyptus, Rosemary, Lavender & Cedarwood defends against airborne bacteria & may aid in respiratory health, making it the perfect oil to diffuse for a healthy home. You can also benefit from its protecting powers by diluting Breathe Blend with carrier oil & rubbing it on the bottoms of your feet every day. This is one of our favorite immune supporting essential oil blends and it smells oh so nice! 10 ml.
Directions:
Add 3-4 drops to your favorite at home or at work diffuser 
Combine with your favorite carrier oil, place in a roll-on bottle and apply to your neck or wrists.
Ingredients:
Rosemary, Lavender, Clove Bud, Lemon, Cinnamon, Eucalyptus and Cedarwood 
Caution:
Skin sensitivity may occur. Essential oils are highly concentrated and should be diluted before applying directly to the skin. Keep out of reach from children. If pregnant or breastfeeding please ask your doctor before use
This statement has not been evaluated by the FDA. This product is not intended to diagnose, treat, cure, or prevent any disease. 
This is a proprietary blend of essential oils.