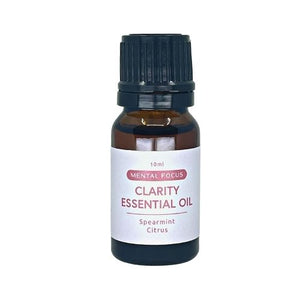 Our Clarity Blend is a bright and citrusy combination of lemongrass, rosemary, spearmint, and grapefruit essential oils. These powerful oils come together to promote a clear mind and increase mental alertness. The overwhelming amount of information we are presented with every day can leave our minds feeling overworked and make our thought processes slowed down and fuzzy. Clarity blend is here to impart some mental lucidity and allow us to put our full focus on what is really important without distraction. 10 ml.
Our Clarity Blend can be used in soaps and candles, for making incense or as a personal fragrance. Perfect for your diffuser, or as an addition to bath salts. It is recommended that this blend of essential oils be diluted for use.
Directions:
Add 3-4 drops to your favorite at home or at work diffuser 
Combine with your favorite carrier oil, place in a roll-on bottle and apply to your neck or wrists.
Ingredients:
Lemongrass, Rosemary, Spearmint, and Grapefruit 
Caution:
Skin sensitivity may occur. Essential oils are highly concentrated and should be diluted before applying directly to the skin. Keep out of reach from children. If pregnant or breastfeeding please ask your doctor before use.