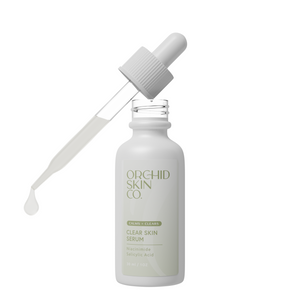 Calms + Clears
Description: A daily treatment serum to help prevent and clear up acne.
Skin Type Indications: All skin types dealing with breakouts, clogged pores and redness
Benefits: Helps prevent acne while reducing inflammation and redness in the skin.  This serum not only helps to promote clear skin but also provides anti-aging benefits making it a perfect choice for those dealing with adult acne.
Why it works: Acne is caused by dead skin cells and excess oil being trapped in the skin's pores causing the pore to become plugged.  This condition is the perfect breeding ground for bacteria to thrive.  When this happens the skin becomes inflamed and bacteria continues to multiply causing infection and pus to develop in the pore. The Clear Skin Serum works by incorporating Salicylic Acid to keep pores free from dead skin and reducing excess sebum.  The natural antibacterial properties of tea tree reduce the ability of bacteria to fester and Niacinamide soothes inflammation. 
Featured Ingredients:
Niacinamide -has the ability to improve the appearance and severity of acne.  Niacinamide is an anti-inflammatory action and may help in reducing sebum which is a main contributor to acne.
Salicylic Acid- is a beta hydroxy acid. This ingredient is well-known and trusted for reducing acne by exfoliating the skin this keeps pores clear and eliminates the conditions needed for acne to develop.
Directions: Shake before using. After cleansing, apply 2 to 3 drops nightly
Ingredients:
Aqua, Msm, Vitamin C, Niacinamide, Squalane, Organic Rosehip Seed, Retinol, Vitamin E, Salicylic Acid, Tara, Botanical Hyaluronic Acid, Organic Gotu Kola, Horsetail Extract, Wild Geranium Extract, Organic Dandelion, Tea Tree Essential Oil, Lavender Essential Oil, Ylang Essential Oil, Glycerin, Acrylates/C10-30 Alkyl Acrylate Crosspolymer, Lecithin, Pentylene Glycol, Polysorbate 20, Alcohol, Monobasic Potassium Phosphate, Phenoxyethanol , Ethylhexylglycerin