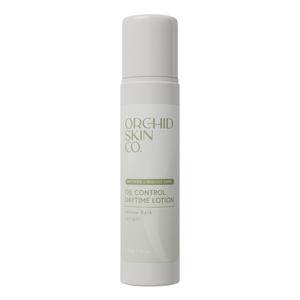 This liquid satin lotion provides light moisture while controlling the 4 pm shiny T-zone caused by excessive oil production. Our Shine Block Botanical Blend helps to prevent acne flare-ups caused by excessive oil production, bacteria, and inflammation to keep your skin matte and clear all day, every day. 
Skin Type: 
Oily, Acne Prone or Combination Skin that is prone to mild to moderate acne breakouts.
Benefits: 
Less oily afternoon T-zone.
Fewer breakouts and redness from inflammation 
Lightly moisturized skin where needed without a greasy feel 
Featured Ingredients: 
Shine Block Botanical Blend
A blend of botanical extracts including Juniper + Willow Bark + Cayenne + Lavender + Geranium delivers anti-microbial and anti-inflammatory benefits that calm acne to restore clear + balanced skin.  This blend also promotes gentle cellular turnover, increased circulation, and a reduction in excessive oil so you can see a brighter, less oily complexion within 14 days.   
Orchid Hydra Rx Complex: Aloe, Glycerin, Vitamin E + Vitamin B5 make up this hydration dream team that captures water and delivers it where skin needs it for a smooth, plump + hydrated complexion that will not clog your pores.  Antioxidants fight against free radicals that seek to damage proper cell functioning.  This keeps your skin looking and acting youthful and healthy. 
Directions: After cleansing, toning apply the desired amount and press into the skin. Makes for a fabulous matte primer to be used under makeup. 
Texture: light-weight, liquid lotion. 
Ingredients:
Aqua (Water), Organic Aloe Extract, Sodium Stearate SE, Glycerin, Organic Coconut Oil, Apricot Oil, Vitamin E, Panthenol (Vitamin B5), Sodium Ascorbyl Phosphate, Clove Essential Oil, Lavender Water, Dimethyl Sulfone (MSM), Organic Willow Bark Extract, Juniper Extract, Capsicum Annuum Fruit Extract, Wild Geranium Extract, Cetyl Alcohol, Phenoxyethanol, Ethylhexylglycerin.