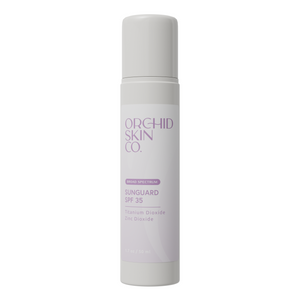 Description: A physical, broad-spectrum sunscreen. Dermatologists recommended titanium dioxide and zinc oxide for both UVA & UVB protection to reduce the risk of skin cancer and premature aging.
Skin Type: All skin types
Benefits:
Pleasant almond – vanilla scent

 Physical sunscreens form a physical barrier to the sun and help protect against damage that can result from sun exposure.

Non-irritating to eyes with a creamy consistency that goes on smoothly and provides mild moisturization.  

 Highly micronized particles that are absorbed evenly on the skin and provide complete protection from harmful rays without leaving a white cast to the skin.
Featured Ingredients:
Titanium Dioxide-

protects your skin by blocking the absorption of the sun's ultraviolet light that can cause sunburn and is also linked to skin cancer.

Zinc Oxide-

creates a protective barrier and deflects both UVA & UVB rays off of your skin
Directions:
Apply liberally each AM after cleansing and other skincare products but before make-up. Reapply frequently when sun exposure is more intense or after swimming.